55 Cell Phone Users You'd Like To Silence
A book by Dr. Mike O'Malley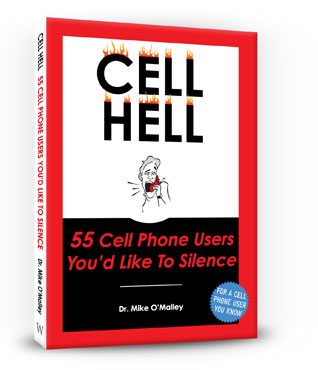 About the Author, Dr. Mike O'Malley

Mike is an optometrist in Chicago. He prefers a landline, but he admits that he's probably on his cell phone more.
Mike wrote CELL HELL to present in a humorous fashion those cell phone users who rattle your cage.
They're everywhere! There's
nowhere to hide anymore!!
In CELL HELL, Mike uses humor and
satire to ask - are we really better
off with these devices?
Is it OK to constantly invade another person's space
or comfort zone? Is it worth it to have our space or
comfort zone constantly invaded?
DISCLAIMER
The author in no way intends for this book to be interpreted as an indictment of the cellular phone industry. Cell phones don't annoy – cell phone abusers do.